Want an engaging and fun STEM camp for kids? 
You need a curriculum that's out of this world. 
Not all students want to learn STEM at an academic camp, and it can be hard to find a curriculum that encourages practical skills… but still rocks! 
There is one thing that gets campers excited – plus it builds a buzz (which builds enrollment).
We're talking 'bout drone camps. 
What does it take to run an exceptional drone camp? 
Here at Drone Legends, we're giving you the inside scoop. 
To see what a drone camp curriculum looks like, download this free overview. 
So, about that summer they'll never forget…
Drone Legends Camp
We believe drones inspire kids to discover their Legendary selves. Using drones as hands-on learning tools enhances learning in every context: from summer camps to enrichment programs. 
At Drone Legends, we see this in action all the time. 
For example, when we partner with Code Camp, kids learn coding basics through themed drone missions and fun problem-solving lessons. The future coders of the world are in our programs.
Using the curriculum from Drone Legends, drone flight training becomes accessible and interesting to kids who may have not yet been introduced to STEM. 
They not only learn how to fly drones, but they also learn coding, engineering, creative thinking, and real-world math applications. 
How do you create a camp like this? First, you need a plan.
Drone Camp Planning
From age range to drone brand research to marketing, there's a lot that goes into drone camp planning. Here are a few things you need to consider:
How much space do you need to run a drone camp?

How long is your summer camp program?

What are your budget numbers for a STEM-based camp?

How do you want to market your drone camp?

What type of

drone curriculum

will your camp use?
To run the best drone camp possible, you'll also need to provide teachers, staff, and parents with all the information they need going into it. 
For more tips, read a detailed example in our Ultimate Guide to Summer Camp Planning.
Drone Camps
What makes drone camps stand out from other STEM camps for kids? You won't find the level of inclusivity and learning diversity at other tech camps. Camps that use drones don't have the same standards for joining as robotics or other high tech experiences.
Extracurricular STEM and coding programs can be hard for many kids to get into. Students may be required to be academically proficient or master basic skills before they can join.
How are teachers supposed to inspire future STEM thinkers of the world if only a select few can break through the barriers of program entry? 
Some kids might have limited access to tech programs in their area. Or if there are STEM opportunities nearby, they're available at a high price. Drones are more affordable than the elaborate frameworks used in coding and robotics education. 
Drone camps give more families a chance to enroll their children into programs that offer problem-based learning using the latest technologies. 
Drone Legends has established a growing presence worldwide as a premiere provider of drone camps, for example, in some of our favorite kid-friendly organizations. Read on to learn where you might find a Drone Legends camp.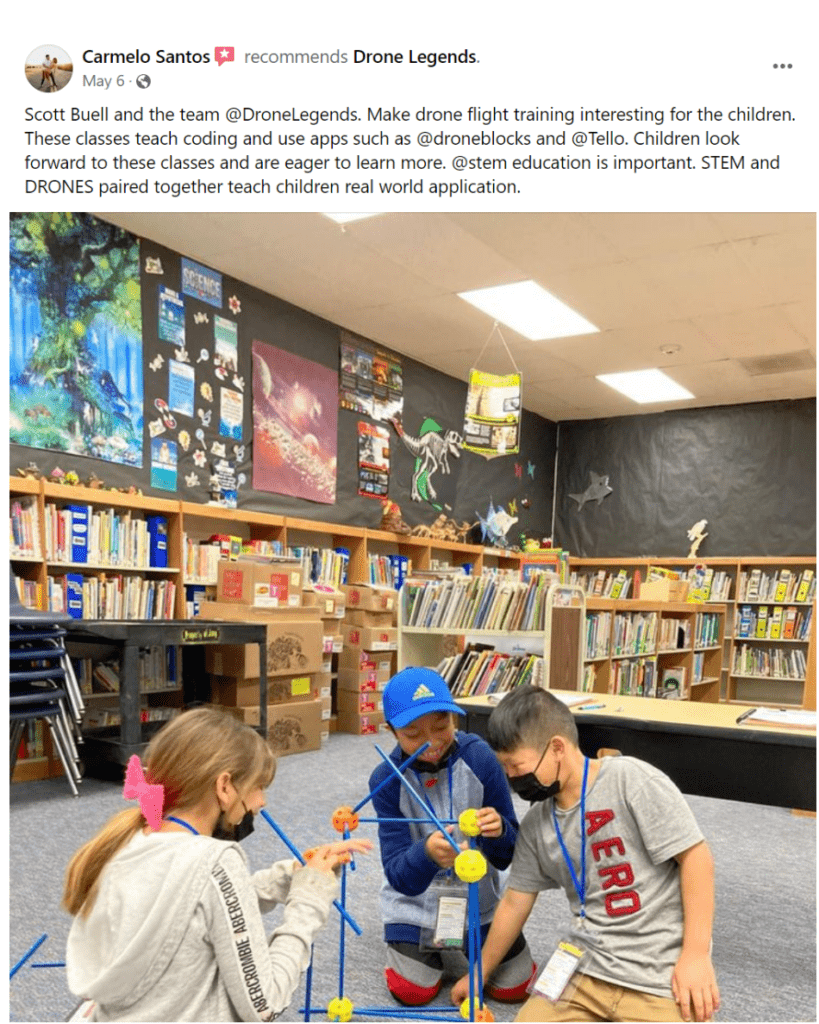 YMCA Camps
The YMCA runs camp programs for kids in more than 120 countries. In day camps and overnight camps, kids get to learn strong skills that encourage them to work independently and in group settings. Since the YMCA strives to deliver better youth development and learning, around the world. Drones can be applied to countless experiences: environmental leadership, sports, arts and entertainment, and more. 
Boys and Girls Club Camps
The Boys and Girls Club prides itself on learning innovation and youth mentorship, helping kids reach achievements in school and daily life. Their values of leadership and workforce readiness make drone and STEM programs the perfect type of hands-on team learning that kids will use in higher education and, eventually, work. 
Parks and Rec Day Camps
No matter where you're located, it's a good idea to look into the Parks and Rec department to find "drone programs near me." It's Googleable, and these are usually vetted programs with great volunteers and helpers.
Local, community-based and county funded organizations often provide seasonal and afterschool programs for kids of all ages. You can find lots of different camps being offered, from tech and STEM to English and art. Check your local parks and rec websites to find educational camps by subject, theme, and season.
Private Camps
Private schools and organizations are running great drone programs this summer. Allowing students to explore new territory with drones is a powerful way to introduce them to concepts they may not be exposed to in private coursework. A drone camp curriculum can benefit existing private camps by allowing innovative educators to bring new perspectives to kids and staff. 
Looking for Drone Camp Curriculum?
A camp for kids is only as awesome as the curriculum and educators that support it. 
If you have the vision but need the tools, look for a drone camp curriculum that's fun for students and parent-approved. 
The Drone Legends curriculum comes with all the resources your teachers and camp leaders need to help kids fall in love with STEM learning through drones. 
Use the Mission Guide to launch problem-based learning exercises. Adapt existing camp programs with a Drone Educator Lesson Planner. Put campers in the pilot seat with the student Operations Manual. And the drones? They tie everything together, facilitating unforgettable learning experiences.
Contact Drone Legends to talk with a drone educator and get a look at our STEM drone camp curriculum today.